Menu
Publications
Editor-in-Chief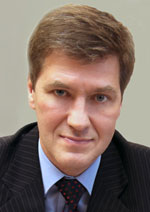 Nikiforov
Vladimir O.
D.Sc., Prof.
Partners
INVESTIGATION OF BIOLOGICAL OBJECTS IN OPTICAL COHERENCE TOMOGRAPHY WITH DATA PROCESSING BY SEQUENTIAL MONTE CARLO METHOD
P. S. Skakov, M. A. Volynsky, I. P. Gurov, P. A. Ermolaev
Read the full article

Abstract
A possibility of sequential Monte Carlo method application for data processing in the full-field optical coherent tomography for studying of biological objects is demonstrated. The suggested algorithm is based on statistical approximation of the estimated parameters instead of nonlinear functional transformations. Experimental results of data processing in the studies using full-field optical coherence tomography system based on the Linnik micro-interferometer are given with subsequent signals envelope estimation by sequential Monte Carlo method. It was established that the processing results contain fewer artifacts caused by instability of the algorithm as compared with the previously obtained results using the extended Kalman filtering. Processing of the full-field optical coherence tomography system data involving the sequential Monte Carlo method gave the possibility to observe an object microstructure with resolution of about 1 μm. Experimental testing of sequential Monte Carlo method was performed by analyzing the signals obtained in the study of the front wing of the common house mosquito Culex pipiens, because this object has a small size, low thickness and complicated microstructure and, therefore, is a convenient test object. These results are in a good agreement with observations obtained by conventional microscopy techniques and can be of interest for specialists in the field of entomology and bioengineering.
Keywords: full-field time-domain optical coherence tomography, sequential Monte Carlo method, interferometric signals analysis, biological objects