Menu
Publications
Editor-in-Chief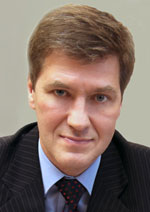 Nikiforov
Vladimir O.
D.Sc., Prof.
Partners
DISCRETE SWITCHING WAVES AND DISSIPATIVE SOLITONS IN THE COHERENTLY EXCITED NANOSTRUCTURES AND METAMATERIALS
N. N. Rosanov, N. . Vysotina, A. . Shatsev, A. . Desyatnikov, I. . Shadrivov, R. E. Noskov, Y. S. Kivshar
Read the full article

Abstract
We have carried out the comparative analysis of localized structures – switching waves and dissipative solitons –
in the three discrete nonlinear systems that are resonantly excited by a coherent holding radiation: chain of molecules, chain of metallic nanospheres, and lattice of split ring resonators.
Keywords:
dissipative solitons, discrete solitons, switching waves
This work is licensed under a
Creative Commons Attribution-NonCommercial 4.0 International License