Menu
Publications
Editor-in-Chief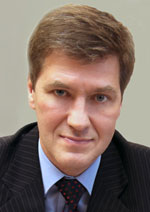 Nikiforov
Vladimir O.
D.Sc., Prof.
Partners
PROBABILITY DISTRIBUTION OF LEVEL-CROSSING INTERVALS OF THE NORMAL RANDOM PROCESS AND THE STRUCTURE OF AN OPTICAL NEAR-FIELD LOCATION SYSTEM WITH NOISE SYNCHRONIZATION
E. G. Lebedko, M. . Serikova
Read the full article

Abstract
The structure of an optical near-field location system with noise synchronization is proposed on the basis of the probability distribution study of level-crossing intervals of the normal random process.
Keywords:
optical near-field location, level-crossing intervals
This work is licensed under a
Creative Commons Attribution-NonCommercial 4.0 International License