Menu
Publications
Editor-in-Chief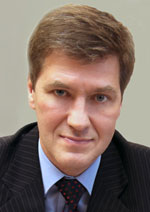 Nikiforov
Vladimir O.
D.Sc., Prof.
Partners
ACCURACY EVALUATION FOR THE NON-CONTACT DEFECT AREA MEASUREMENT AT THE COMPLEX-SHAPE SURFACES UNDER VIDEOENDOSCOPIC CONTROL
A. V. Gorevoy, A. S. Machikhin, A. M. Perfilov
Read the full article

Abstract
The problem of non-contact surface defect area measurement at complex-shape objects under videoendoscopic control is considered. Major factors contributing to the measurement uncertainty are analyzed for the first time. The proposed method of accuracy analysis is based on the evaluation of 3D coordinates of surface points from 2D projections under assumption of projective camera model and Mahalanobis distance minimization in the image plane. Expressions for area measurement error caused by sum-of-triangles approximation are obtained analytically for practically important cases of cylindrical and spherical surfaces. It is shown that the magnitude of this error component for a single triangle does not exceed 1% for the real values of parameters of the endoscopic imaging system. Expressions are derived for area measurement uncertainty evaluation on arbitrary shape surfaces, caused by measurement errors of 3D coordinates of individual points with and without a priori information about surface shape. Verification of the obtained expressions with real experiment data showed that area measurement error for a complex figure, given by a set of points, is mainly caused by ignoring the fact that these points belong to the surface. It is proved that the use of a priori information about investigated surface shape, which is often available from the design documentation, in many cases would radically improve the accuracy of surface defects area measurement. The presented results are valid for stereoscopic, shadow and phase methods of video endoscopic measurements and can be effectively used in development of new non-contact measuring endoscopic systems and modernization of existing ones.
Keywords: visual and measuring control, surface area measurement, videoendoscopy, measuring endoscope, measurement accuracy, triangulation