Menu
Publications
Editor-in-Chief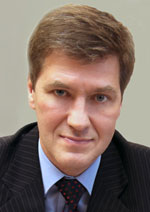 Nikiforov
Vladimir O.
D.Sc., Prof.
Partners
MOLECULAR DYNAMIC SIMULATION OF PEPTIDE POLYELECTROLYTES
I. M. Neelov, A. A. Mistonova, A. Y. Khvatov, V. V. Bezrodny
Read the full article

Abstract
The paper deals with investigation of the conformational properties of some charged homopolypeptides in dilute aqueous solutions by computer simulation. A method of molecular dynamics for the full-atomic models of polyaspartic acid and polylysine with explicit account of water and counter-ions is used for this purpose. For systems containing these polypeptides we calculated time trajectories and the size, shape, distribution functions and time correlation functions of inertia radius and the distances between the ends of peptide chains. We have also calculated the solvatation characteristics of considered polyelectrolytes. We have found out that polyaspartic acid in dilute aqueous solution has more compact structure and more spherical shape than polylysine. We have shown that these differences are due to different interaction between the polypeptides and water molecules (in particular, the quality and quantity of hydrogen bonds formed by these peptides with water), and the difference in an amount of ion pairs formed by the charged groups of the peptides and counter-ions. The obtained results should be taken into account for elaboration of new products based on the investigated peptides and their usage in various industrial and biomedical applications.
Keywords: polyelectrolytes, peptides, computer simulation, molecular dynamics method