Menu
Publications
Editor-in-Chief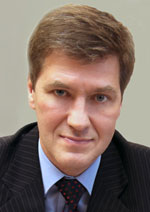 Nikiforov
Vladimir O.
D.Sc., Prof.
Partners
INFLUENCE OF QUARTZ CERAMICS SINGLE-STAGE PROCESSING BY GEL-FORMING WATER SOLUTIONS ON ITS STRENGTH
S. K. Evstropiev, V. M. Volynkin, A. V. Shashkin, K. V. Dukelskiy, A. G. Korobeynikov, Y. A. Gatchin, V. I. Polyakov
Read the full article

Abstract
The main research results of the influence of quartz ceramics processing by silicon- and aluminum-containing gel- forming water solutions on its durability and porosity are given. Aqueous-alcoholic solutions based on tetraethoxysilane (TEOS, Si(C2H5O)4) with additives of aluminum nitrate are proposed for impregnation of porous quartz ceramics samples. Ceramic samples are being impregnated with solutions at the room temperature for 12 minutes. After impregnation they are being exposed to drying at the room temperature for 24 hours and heat treatment in the electric muffle furnace. The made experiments show that impregnation of quartz ceramics porous samples by gel-forming solutions leads to durability growth of not burned samples by 6-7 times even without additional heat treatment. High-temperature heat treatment of previously impregnated ceramic samples leads to decomposition of aluminum nitrate and removal of fossils, and also to hardening of the formed additional bonds between material particles. It considerably improves strength characteristics of quartz ceramics as well. Thus, the possibility of considerable hardening of porous quartz ceramics and stability growth of its strength properties by preliminary impregnation of silicon- and aluminum-bearing gel-forming solutions even without additional heat treatment is experimentally shown. It is revealed that impregnation of porous quartz ceramic samples by these solutions leads only to insignificant reduction of porosity of samples. Subsequent heat treatment of the impregnated porous ceramic samples at the temperatures, equal to 900-1200oC, results in additional significant increase in their mechanical durability.
Keywords:
quartz ceramics, impregnating solution, durability, temperature
References
1. Коробейников А.Г., Гатчин Ю.А., Дукельский К.В., Тер-Нерсесянц Е.В. Технологические методы снижения уровня оптических потерь в микроструктурированных волоконных световодах // Научно- технический вестник информационных технологий, механики и оптики. 2014. № 1 (89). С. 31–38.
2. Пивинский Ю.Е., Ромашин А.Г. Кварцевая керамика. М.: Металлургия, 1974. 264 с.
3. Kanzaki S., Tabata H., Abe O., Shigetoshi O., Chitake Y., Senshu M. Process for producing alumina silica sintered ceramics having improved high-temperature strength. Patent US N4895814, filling date 24.07.1987.
4. Бородай Ф.Я., Викулин В.В., Иткин С.М., Ляшенко Л.П., Шкарупа И.Л., Самсонов В.И. Наномоди- фицированная кварцевая керамика с повышенной высокотемпературной прочностью. Патент РФ №2458022. Бюл. 2012. №22.
5. Байкова Л.Г., Мамалимов Р.И., Песина Т.И., Чмель А.Е., Щербаков А.И. Структурные превращения в процессе термической обработки кварцевой керамики // Стекло и керамика. 2013. № 8. С. 32–34.
6. Викулин В.В., Бородай Ф.Я., Иткин С.М., Русин М.Ю., Шкарупа И.Л. Способ получения кварцевой керамики и изделий из нее. Патент РФ №2380341. Бюл. 2010. №3.
7. Иткин С.М., Викулин В.В., Русин М.Ю., Шкарупа И.Л. Способ обработки изделий из кварцевой керамики. Патент РФ №2267470. Бюл. 2006. № 1.
8. Sato N., Emori I., Takada K., Inomoto S., Kawazu M. Method for producing porous silica ceramic material. Patent US N 20090206525, filling date 23.06.2006.
9. Викулин В.В., Бородай Ф.Я., Бородай С.П., Шкарупа И.Л. Способ получения оболочек антенных обтекателей из кварцевой керамики. Патент РФ №2436206. Бюл. 2011. № 34.
10. Church P.K., Knutson O.J. Method of impregnating porous refractory bodies with inorganic chromium compound. Patent US N 3789096, filling date 28.12.1967.
11. Айлер Р. Химия кремнезёма: Пер. с англ. / Под ред. В.П. Прянишникова. М.: Мир, 1982. Ч. 2. 712 с.
12. Бевз В.А., Пивинский Ю.Е. Способ изготовления кварцевой керамики // А.с. СССР № 804607. Бюл. 1981. № 6.
13. Яо И.М. Композиционные керамические материалы на основе кремнийорганического связующего и тугоплавких бескислородных наполнителей. Автореф. дис. … канд. техн. наук. Казань, Казанский государственный технологический университет, 2000. 18 с. 14. Матусевич И.С., Ахъян А.М. Способ упрочнения необожженной кварцевой керамики // А.с. СССР № 1137091. Бюл. 1985. № 4.