Menu
Publications
Editor-in-Chief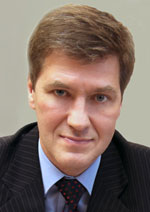 Nikiforov
Vladimir O.
D.Sc., Prof.
Partners
POLICE OFFICE MODEL IMPROVEMENT FOR SECURITY OF SWARM ROBOTIC SYSTEMS
I. A. Zikratov, A. V. Gurtov, T. V. Zikratova, E. V. Kozlova
Read the full article

Abstract
This paper focuses on aspects of information security for group of mobile robotic systems with swarm intellect. The ways for hidden attacks realization by the opposing party on swarm algorithm are discussed. We have fulfilled numerical modeling of potentially destructive information influence on the ant shortest path algorithm. We have demonstrated the consequences of attacks on the ant algorithm with different concentration in a swarm of subversive robots. Approaches are suggested for information security mechanisms in swarm robotic systems, based on the principles of centralized security management for mobile agents. We have developed the method of forming a self-organizing information security management system for robotic agents in swarm groups implementing POM (Police Office Model – a security model based on police offices), to provide information security in multi-agent systems. The method is based on the usage of police station network in the graph nodes, which have functions of identification and authentication of agents, identifying subversive robots by both their formal characteristics and their behavior in the swarm. We have suggested a list of software and hardware components for police stations, consisting of: communication channels between the robots in police office, nodes register, a database of robotic agents, a database of encryption and decryption module. We have suggested the variants of logic for the mechanism of information security in swarm systems with different temporary diagrams of data communication between police stations. We present comparative analysis of implementation of protected swarm systems depending on the functioning logic of police offices, integrated in swarm system. It is shown that the security model saves the ability to operate in noisy environments, when the duration of the interference is comparable to the time necessary for the agent to overcome the path between police stations.
Keywords:
IT security, robotic complex, swarm of robots, ant algorithm, group robotics, Police Office Model, protected swarm, vulnerability, attack
References
1. Губанов Д.А. Обзор онлайновых систем репутации/доверия [Электронный ресурс]. 2009. Режим дос-
тупа: http://mtas.ru/bitrix/components/bitrix/forum.interface/show_file.php?fid=1671, свободный. Яз. рус.
(дата обращения 24.03.2014).
2. Зикратов А.А., Зикратова Т.В., Лебедев И.С. Доверительная модель информационной безопасности
мультиагентных робототехнических систем с децентрализованным управлением // Научно-
технический вестник информационных технологий, механики и оптики. 2014. № 2 (90). С. 47–52.
3. Neeran K.M., Tripathi A.R. Security in the Ajanta MobileAgent system. Technical Report. Department of
Computer Science, University of Minnesota, 1999. 28 p.
4. Xudong G., Yiling Ya., Yinyuan Y. POM-a mobile agent security model against malicious hosts // Proc. 4th
International Conference on High Performance Computing in the Asia-Pacific Region. 2000. V. 2. P. 1165–
1166.
5. Page J., Zaslavsky A., Indrawan M. A buddy model of security for mobile agent communities operating in
pervasive scenarios // Proc. 2nd Australasian Information Security Workshop (AISW2004). ACS, Dunedin,
New Zealand, 2004. V. 32. P. 17–25.
6. Page J., Zaslavsky A., Indrawan M. Countering security vulnerabilities using a shared security buddy model
schema in mobile agent communities // Proc. of the First International Workshop on Safety and Security in
Multi-Agent Systems (SASEMAS 2004), 2004. P. 85–101.
7. Dorigo M., Maniezzo V., Colorni A. Ant system: optimization by a colony of cooperating agents // IEEE
Transactions on Systems, Man, and Cybernetics, Part B: Cybernetics. 1996. V. 26. N 1. P. 29–41.
8. Wooldridge M. Introduction to MultiAgent Systems. John Wiley & Sons Ltd, 2002. 368 p.
9. Зикратов И.А., Козлова Е.В., Зикратова Т.В. Анализ уязвимостей робототехнических комплексов с
роевым интеллектом // Научно-технический вестник информационных технологий, механики и опти-
ки. 2013. № 5 (87). С. 149–154.
10. Комаров И.И., Дранник А.Л., Юрьева Р.А. Моделирование проблем информационной безопасности
мультиагентных систем // В мире научных открытий. 2014. № 4 (52). С. 61–70.
11. Дранник А.Л. Использование программ-симуляторов поведения роевых робототехнических систем
для исследования вопросов безопасности // Материалы VIII Санкт-Петербургской межрегиональной
конференции «Информационная безопасность регионов России (ИБРР-2013)». Санкт-Петербург,
2013. С. 240–251.
12. Schillo M., Funk P., Rovatsos M. Using trust for detecting deceitful agents in artificial societies // Applied
Artificial Intelligence. 2000. V. 14. N 8. P. 825–848.
13. Golbeck J., Parsia B., Hendler J. Trust networks on the semantic web // Lecture Notes in Artificial Intelligence.
2003. V. 2782. P. 238–249.
14. Garcia-Morchon O., Kuptsov D., Gurtov A., Wehrle K. Cooperative security in distributed networks // Computer
Communications. 2013. V. 36. N 12. P. 1284–1297.
15. Бешта А.А., Кирпо М.А. Построение модели доверия к объектам автоматизированной информацион-
ной системы для предотвращения деструктивных воздействий на систему // Известия Томского поли-
технического университета. 2013. Т. 322. № 5. С. 104–108.
16. Ramchurn S.D., Huynh D., Jennings N.R. Trust in multi-agent systems // Knowledge Engineering Review.
2004. V. 19. N 1. P. 1–25.
17. Gorodetski V., Kotenko I., Karsaev O. Multi-agent technologies for computer network security: Attack simulation,
intrusion detection and intrusion detection learning // Computer systems science and engineering.
2003. N 4. P. 191–200.
18. Маслобоев А.В., Путилов В.А. Разработка и реализация механизмов управления информационной
безопасностью мобильных агентов в распределенных мультиагентных информационных системах //
Вестник МГТУ. 2010. Т. 13. № 4–2. С. 1015–1032.