Menu
Publications
Editor-in-Chief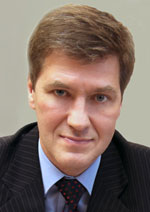 Nikiforov
Vladimir O.
D.Sc., Prof.
Partners
ON ALGORITHMS CREATION FOR STRAPDOWN STABILIZED GYROCOMPASS OPERATION BASED ON ELECTRICALLY SUSPENDED GYROSCOPE
G. I. Emelyantsev, A. A. Medvedkov, C. Tijing
Read the full article

Abstract
The paper presents operation algorithms of ESG-based strapdown stabilized gyrocompass (SSGC) located onboard a mobile vehicle. Initial alignment mode and calibration of drift model coefficients onboard a vehicle is aided by reference attitude (heading, pitch and roll angles) and position data. The required reference attitude parameters can be generated by joint processing of data from MEMS IMU with gyros and accelerometers and GPS compass. Depending on the vehicle dynamics and required accuracy of generated heading, the system may use IMU based on the fiber-optic gyros and accelerometers instead of MEMS to construct the place vertical. Specific features of SSGC algorithms in heading generation are considered. Calibration and corrected operation modes of the system are described. The SSGC uses two ESGs with orthogonal angular momentum vectors, where one gyro is the reference (unit vector of its angular momentum is aligned with the celestial axis) and the other one is virtual (with zero misalignments with respect to the inertial frame, and zero drift model coefficients). Joint processing of SSGC data and external position aiding is realized by extended Kalman filter with full-state feedback control. Simulation modeling results of the system operation algorithms are presented. Simulation modeling has confirmed the system compass effect and determined the time required for calibration of ESG with solid-rotor. The results have been applied at «Concern CSRI "Elektropribor"», JSC.
Keywords:
electrically suspended gyroscope (ESG), strapdown stabilized gyrocompass, fiber-optic gyroscope, micromechanical sensors (MEMS)
References
1. Буравлев А.П., Кузин В.М., Ландау Б.Е., Сумароков В.В. Бескарданный электростатический гироскоп
с подвесом на двойных электродах // XXVI научно-техническая конференция памяти Н.Н.Острякова:
доклады. СПб, 2008. C. 17–18.
2. Emel'yantsev G.I., Landau B.E., Levin S.L., Gurevich S.S., Romanenko S.G. Integrated attitude reference
and navigation system for orbital spacecraft // Gyroscopy and Navigation. V. 2. N 3. 2011. P. 146–151.
3. Ландау Б.Е., Белаш А.А., Гуревич С.С., Емельянцев Г.И., Левин С.Л., Романенко С.Г. Бескарданная
инерциальная система ориентации на электростатических гироскопах для орбитального космического
аппарата // Изв. вузов. Приборостроение. 2011. Т. 54. № 6. C. 66–74.
4. Емельянцев Г.И., Ландау Б.Е., Левин С.Л., Гуревич С.С., Романенко С.Г. Особенности построения ин-
тегрированной системы ориентации и навигации для орбитального космического аппарата // Гироско-
пия и навигация. 2011. № 1. C. 17–25.
5. Никишин В.Б., Синев А.И., Плотников П.К., Наумов С.Г. Повышение точности подземной навигации
на основе интеграции БИНС, одометров и приемников GPS/ГЛОНАСС // Сб. материалов XVII между-
народной конференции по интегрированным навигационным системам. Санкт-Петербург, 2010.
C. 169–174.
6. Емельянцев Г.И., Лочехин А.В. О погрешностях бескарданного гирогоризонткомпаса на электроста-
тическом гироскопе и микромеханических датчиках // Изв. вузов. Приборостроение. 2010. Т. 53. № 10.
C. 42–48.
7. Блажнов Б.А., Волынский Д.В., Емельянцев Г.И., Несенюк Л.П., Степанов А.П. Интегрированная
инерциально-спутниковая система ориентации и навигации с микромеханическим инерциальным мо-
дулем. Результаты испытаний на автомобиле // Гироскопия и навигация. 2008. № 4 (63). P. 77.
8. Blazhnov B.A., Emeliantsev G.I., Koshaev D.A., Semenov I.V., Stepanov A.P., Zhilinskii V.M., Korotkov
A.N., Timofeev E.A., Tsekhanovich G.S. Integrated tightly coupled inertial satellite orientation and navigation
system // Gyroscopy and Navigation. 2010. V. 1. N 1. P. 10–18.
9. Volynskii D.V., Odintsov A.A., Dranitsyna E.V., Untilov A.A. Calibration of fiber-optic gyros within
strapdown inertial measurement units // Gyroscopy and Navigation. 2012. V. 3. N 3. P. 194–200.
10. Gusinsky V.Z., Lesyuchevsky V.M., Litmanovich Yu.A. Calibration and alignment of inertial navigation systems
with multivariate error state vector // Proc. 4th St. Petersburg International Conference on Integrated
Systems. St. Petersburg, 1997. P. 371–378.
11. Анучин О.Н., Емельянцев Г.И. Интегрированные системы ориентации и навигации для морских под-
вижных объектов. СПб: ЦНИИ «Электроприбор», 2003. 390 с.
12. Ландау Б.Е., Гуревич С.С., Емельянцев Г.И., Левин С.Л., Романенко С.Г., Одинцов Б.В. Результаты
калибровки электростатических гироскопов в бескарданной инерциальной системе ориентации // Ма-
териалы XV международной конференции по интегрированным навигационным системам. Санкт-
Петербург, 2008. C. 122–129.
13. Landau B.E., Gurevich S.S., Emeliantcev G.I., Levin S.L., Romanenko S.G. Calibrating the error of a
strapdown ESG-based attitude reference system under conditions of orbital flight // Gyroscopy and Navigation.
2010. V. 1. N 3. P. 176–182.
14. Ландау Б.Е., Левин С.Л., Гуревич С.Г., Емельянцев Г.И., Завгородний В.И., Романенко С.Г., Одинцов
Б.В. Наземная отработка методики полетной калибровки БИСО на ЭСГ для орбитальных космических
аппаратов с произвольной ориентацией // Материалы XIX Санкт-Петербургской международной кон-
ференции по интегрированным навигационным системам. Санкт-Петербург, 2012. C. 127–135.
15. Emeliantsev G.I., Landau B.E., Levin S.L., Romanenko S.G. Refining the drift model of a gimballess inertial
attitude control system based on electrostatic gyros: methods of calibration on a ground-based test bench and
on board an orbiting space vehicle // Gyroscopy and Navigation. 2010. V. 1. N 2. P. 134–140.