Menu
Publications
Editor-in-Chief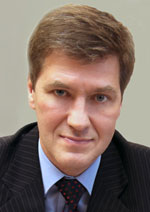 Nikiforov
Vladimir O.
D.Sc., Prof.
Partners
INFORMATION INFRASTRUCTURE OF THE EDUCATIONAL ENVIRONMENT WITH VIRTUAL MACHINE TECHNOLOGY
N. F. Gusarova, R. V. Ivanov, A. D. Beresnev, D. N. Fedotov
Read the full article

Abstract
Subject of research. Information infrastructure for the training environment with application of technology of virtual computers for small pedagogical systems (separate classes, author's courses) is created and investigated.
Research technique. The life cycle model of information infrastructure for small pedagogical systems with usage of virtual computers in ARIS methodology is constructed. The technique of information infrastructure formation with virtual computers on the basis of process approach is offered. The model of an event chain in combination with the environment chart is used as the basic model. For each function of the event chain the necessary set of means of information and program support is defined. Technique application is illustrated on the example of information infrastructure design for the educational environment taking into account specific character of small pedagogical systems. Advantages of the designed information infrastructure are: the maximum usage of open or free components; the usage of standard protocols (mainly, HTTP and HTTPS); the maximum portability (application servers can be started up on any of widespread operating systems); uniform interface to management of various virtualization platforms, possibility of inventory of contents of the virtual computer without its start, flexible inventory management of the virtual computer by means of adjusted chains of rules.
Approbation. Approbation of obtained results was carried out on the basis of training center "Institute of Informatics and Computer Facilities" (Tallinn, Estonia). Technique application within the course "Computer and Software Usage" gave the possibility to get half as much the number of refusals for components of the information infrastructure demanding intervention of the technical specialist, and also the time for elimination of such malfunctions. Besides, the pupils who have got broader experience with computer and software, showed better results within tests due to the usage of information infrastructure with virtual computers.
Practical application. Obtained output can be recommended for introduction into the activity of educational institutions of secondary and higher education, and also for developing the author's and specialized courses focused on collective actions of pupils.
Keywords:
virtual computers, virtualization platform, process approach, small pedagogical systems, information infrastructure, chains of rules, event chain
References
1. Popek G.J., Goldberg R.P. Formal requirements for virtualizable third generation architectures
// Communications of the ACM. 1974. V. 17. N 7. Р. 412–421.
2. Smith J.E., Nair R. Virtual Machines: Versatile Platforms for Systems and Processes. Morgan Kaufmann,
2005. 656 p.
3. Гультяев А.К. Виртуальные машины: несколько компьютеров в одном. СПб: Питер, 2006. 224 с.
4. Блинков Ю.В. Моделирование компьютерных систем на виртуальных машинах. Пенза: ПГУАС,
2011. 268 с.
5. vMoodle Virtualization-Based Online Learning System [Электронный ресурс]. Режим доступа:
http://visa.cis.fiu.edu/tiki/vMoodle, свободный. Яз. англ. (дата обращения 15.07.2014).
6. Cursory Thoughts on Virtual Machines in Distance Education Courses [Электронный ресурс]. Режим
доступа: http://blog.ouseful.info/2013/12/02/packaging-software-for-distance-learners-vms-101, свобод-
ный. Яз. англ. (дата обращения 15.07.2014).
7. Virtual Machines - Kansas Research and Education Network [Электронный ресурc]. Режим доступа:
http://www.kanren.net/index.php/services/net-services/kanrenvm.html, свободный. Яз. англ. (дата обра-
щения 15.07.2014).
8. Скшидлевский А.А., Лямин А.В. Разработка стенда для экспериментальных исследований типовых
схем развертывания системы AcademicNT // Научно-технический вестник СПбГУ ИТМО. 2011.
№ 3 (73). С. 126–129.
9. Усманов Ш.Н. Виртуальные машины в преподавании информатики // Информатика и образование.
2007. № 6. С. 120–121.
10. Чурилов И.А. Применение виртуальных машин в процессе обучения ИТ-специальностям // Препо-
давание информационных технологий в Российской Федерации: материалы XI открытой Всерос-
сийской конференции. Воронеж: Воронежский государственный университет, 2013. С. 75–77.
11. Лисовецкий К. Виртуальная Windows в системе Linux [Электронный ресурс]. Режим доступа:
http://gimnaz.com/blog/win_to_linux.90.aspx, свободный. Яз. рус. (дата обращения 16.02.2014).
12. Гаврилов С.И. Модели, методы и программные средства оценки качества информационно-
образовательных ресурсов: автореф. дис. ... канд. техн. наук. М.: МИФИ, 2011. 22 с.
13. Развитие электронных образовательных интернет-ресурсов нового поколения [Электронный ре-
сурс]. Режим доступа: http://kkidppo.ru/razvitie-eor-novogo-pokoleniya, свободный. Яз. рус. (дата об-
ращения 30.08.2014).
14. Ившина Г.В. Разработка электронных образовательных ресурсов: мониторинг качества и внедрение.
Казань, КГУ, 2008. 53 с.
15. Структура системы оценки качества программных комплексов для дистанционного обучения [Элек-
тронный ресурс]. Режим доступа: http://www.hr-portal.ru/article/struktura-sistemy-ocenki-kachestvaprogrammnyh-
kompleksov-dlya-distancionnogo-obucheniya, свободный. Яз. рус. (дата обращения
15.03.2014).
16. Журавлёва Е.В. Проблема качества педагогических программных средств в контексте инноватизации
преподавания математики // Вестник РУДН. Серия: Информатизация образования. 2011. № 1. C. 85–90.
17. Бабешко В.Н., Нежурина М.И. Комплексные решения ЦДО МИЭМ в области качества электронно-
го обучения [Электронный ресурс]. Режим доступа: http://tm.ifmo.ru/tm2005/src/264b.pdf, свободный.
Яз. рус. (дата обращения 15.03.2014).
18. Wu H.-Y., Lin Y.-K., Chang C.-H. Performance evaluation of extension education centers in universities
based on the balanced scorecard // Evaluation and Program Planning. 2011. V. 34. N 1. P. 37–50.
19. Tzeng G.H., Chiang C.H., Li C.W. Evaluating intertwined effects in e-learning programs: a novel hybrid
MCDM model based on factor analysis and DEMATEL // Expert Systems with Applications. 2007. V. 32.
N 4. P. 1028–1044.
20. Безрукова В.С. Основы духовной культуры (энциклопедический словарь педагога). Екатеринбург,
2000. 937 с.
21. Сравнение виртуальных машин [Электронный ресурс]. Режим доступа:
http://ru.wikipedia.org/wiki/Сравнение виртуальных машин, свободный. Яз. рус. (дата обращения
15.03.2014).
22. Шеер А.В. ARIS – моделирование бизнес-процессов. Вильямс, 2009. 175 с.
23. Артемова Г.О., Гусарова Н.Ф., Иванов Р.В. Оценка рисков применения виртуальных машин в ин-
фраструктуре образовательного учреждения // Дистанционное и виртуальное обучение. 2014. № 11.
(принято к печати).
24. Артемова Г.О., Гусарова Н.Ф., Иванов Р.В. Управление информационной инфраструктурой образо-
вательной среды с использованием технологии виртуальных машин // Дистанционное и виртуальное
обучение. 2014. № 10. (принято к печати).
25. Гусарова Н.Ф., Добренко Н.В., Иванов Р.В., Решетников В.В. Среда управления виртуальными ма-
шинами. Свидетельство о государственной регистрации программы для ЭВМ 2013661663. Заявл.
29.10.2013.
26. Гусарова Н.Ф., Добренко Н.В., Иванов Р.В., Прокофьев Е.С. Утилита извлечения структурирован-
ной информации о программном обеспечении. Свидетельство о государственной регистрации про-
граммы для ЭВМ 2013661662. Заявл. 29.10.2013.
27. Гусарова Н.Ф., Добренко Н.В., Иванов Р.В., Строганов П.С. Программа сопровождения поиска вир-
туальных машин в репозитории. Свидетельство о государственной регистрации программы для
ЭВМ 2013661664. Заявл. 29.10.2013.