Menu
Publications
Editor-in-Chief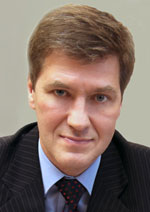 Nikiforov
Vladimir O.
D.Sc., Prof.
Partners

DOI: 10.17586/2226-1494-2018-18-2-268-277
INDUSTRY 4.0 DIGITAL PRODUCTION ORGANIZATION BASED ON CYBER AND PHYSICAL SYSTEMS AND ONTOLOGIES
A. V. Guryanov, D. A. Zakoldaev, A. V. Shukalov , I. O. Zharinov, M. O. Kostishin
Read the full article

Article in
Russian
For citation:
Gurjanov A.V., Zakoldaev D.A., Shukalov A.V., Zharinov I.O., Kostishin M.O. Industry 4.0 digital production organization based on cyber and physical systems and ontologies.
Scientific and Technical Journal of Information Technologies, Mechanics and Optics
, 2018, vol. 18, no. 2, pp. 268–277 (in Russian). doi: 10.17586/2226-1494-2018-18-2-268-277
Abstract
Subject of Research. The paper proposes the work organization schemes in the Industry 4.0 instrument making production companies of "smart factory" type equipped with cyber and physical systems. Studies on the production cyber-physiphication are being carried out aimed at the development and implementation of ideas and decisions in the domestic industry, which will help to establish "smart companies" in our country capable of functioning in the conditions of digital economy and possessing new production technologies. Method.We used the work organization methods for item design manufacturing with the cyber and physical systems and ontologies implementation in the conditions of the companies of the future on the basis of the design automation general theory. Main Results. It is shown that the effect of the production companies proposed organization principles implementation in the factories of the future format can boost the Russian Federation industry transfer to the most advanced digital, intellectual production technologies, robotized systems, new materials and designing methods that corresponds to the Russian Federation State Scientific and Technical Policy in the field of instrument making and machine manufacturing. Practical Relevance. The results of this research can be applied in the development of automation design algorithms for instrument making (machine manufacturing) digital production operating in the conditions of the Russian Federation digital economy.
Keywords:
Industry 4.0, cyber and physical systems, production, ontology
References
This work is licensed under a
Creative Commons Attribution-NonCommercial 4.0 International License