Menu
Publications
Editor-in-Chief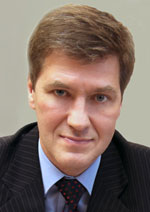 Nikiforov
Vladimir O.
D.Sc., Prof.
Partners
TWO-LAYER PHASE COMPENSATING INTERFERENCE SYSTEMS
G. V. Nikandrov, E. S. Putilin, L. A. Gubanova, D. S. Starodubov
Read the full article

Article in
Russian
Abstract
The paper deals with creation of optical interferential coatings, giving the possibility to form the wave front without the change of energy characteristics of the incident and reflected radiation. Correction is achieved due to the layer, which thickness is a function of coordinate of an optical element surface. Selection technique is suggested for refractive index materials, forming two-layer interference coating that creates a coating with a constant coefficient of reflection on the surface of the optical element. By this procedure the change of coefficient of reflection for the optical element surface, arising because of the variable thickness is eliminated. Magnesium oxide and zirconium dioxide were used as the film-forming materials. The paper presents experimentally obtained thickness distribution of the layer, which is a part of the phase compensating coating. A new class of optical coatings proposed in the paper can find its application for correcting the form of a wave front.
Keywords:
wave front, interference coatings, dielectric layers, reflected radiation phase
Acknowledgements.
The work was partially financially supported by the Russian Scientific Foundation (Agreement № 14-23-00136).
References
1. Жиглинский А.Г., Путилин Э.С. Формирование волнового фронта с помощью интерференционных
покрытий // Оптика и спектроскопия. 1972. Т. 32. № 6. С. 27–31.
2. Yasui К., Tanaka М., Yagi S. Unstable resonator with phase-unifying coupler for high-power laser // Applied
Physics Letters. 1988. V. 52. N 7. P. 530–531.
3. Paré C., Bélanger P.-A. Optical resonators with graded-phase mirrors // Proceedings of SPIE – The International
Society for Optical Engineering. 1998. V. 3267. P. 226–233.
4. Kotlikov E.N., Prokashev V.N., Khonineva Е.V. Synthesis of unstable resonator output mirrors with phase
front compensation // Proceedings of SPIE – The International Society for Optical Engineering. 2001. V.
4353. P. 69–74.
5. Фишман А.И. Фазовые оптические элементы - киноформы // Соросовский образовательный журнал.
1999. № 12. С. 76–83.
6. Бернинг П.Х. Теория и методы расчета оптических свойств тонких пленок // Физика тонких пленок. Т.
1. / Под ред. Г.Хасса, Э. Туна: Пер. с англ. М.: Мир, 1967. С. 91–151.
7. Белашенков Н.Р., Губанова Л.А., Путилин Э.С. Фимин П.Н. Формирование волнового фронта отра-
женного излучения градиентными зеркалами // Тезисы докладов Международной конференции «При-
кладная оптика-96». СПб, 1996. С. 197.
8. Никандров Г.В. Фазо-компенсирующие покрытия // Научно-технический вестник СПбГУ ИТМО.
2008. № 4 (49). С. 3–6.
9. Губанова Л.А. Критерий выбора и синтез условий осаждения градиентных систем // Научно-
технический вестник СПбГУ ИТМО. 2004. № 4 (15). С. 145–149.
10. Никандров Г.В. Разработка технологии создания фазо-компенсирующих покрытий // Сборник тезисов
VIII всероссийской межвузовской конференции молодых ученых. Вып. 2. Оптотехника и оптические
материалы. СПб: СПбГУ ИТМО, 2011. С. 53–54.
11. Эльгарт З.Э. Балансно-двухволновой метод контроля оптических толщин слоев: дис. … д-р. техн. на-
ук. СПб: СПбГУ ИТМО, 1998. 217 с.
12. Канцельсон Л.Б. Методы контроля оптической толщины интерференционных пленок, наносимых в
вакууме. Обзор // Оптико-механическая промышленность. 1969. № 4. С. 50–58.