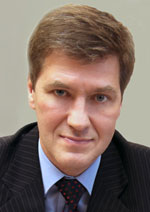 Nikiforov
Vladimir O.
D.Sc., Prof.
MEASURING DEVICE FOR TEMPERATURE AND MECHANICAL DEFORMATION CONTROL ON BASIS OF FIBER OPTIC SENSORS
V. E. Karassik, V. Lazarev, N. Neverova
Read the full article

';
Abstract
This article presents a measuring device on basis of Bragg sensors. The article describes the principle of operation and contemplates advantages and disadvantages of the present device. It also introduces device that uses signal calibration with the help of spectral modulation of light emitted diode (LED). Information is given about the results of research and development.
Keywords:
spectral modulation of light emitted diode (LED), fiber optic sensors, measuring device, Bragg gratings
This work is licensed under a
Creative Commons Attribution-NonCommercial 4.0 International License