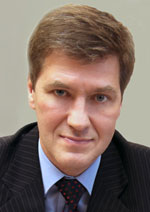 Nikiforov
Vladimir O.
D.Sc., Prof.
DEGENERATION CONTROL OF COMPLEX DYNAMIC SYSTEMS OF CONSTRUCTIVE TYPE WITH HUMAN COMPONENTS
A. V. Ushakov, M. V. Polyakova, N. A. Dudarenko
Read the full article

';
Abstract
The problem of degeneration control of complex dynamic systems of constructive type with human components is concerned in this note. Such systems are usually involved into the technological process for achievement of the best common result, for example: crew, research laboratory staff, any functional or creative group, etc. De-generation functionals constructed with singular values of criterion system matrixes are used for degeneration control estimation.
Keywords:
complex dynamic system, degeneration, control, condition value, singular value, system with human com-ponents
This work is licensed under a
Creative Commons Attribution-NonCommercial 4.0 International License