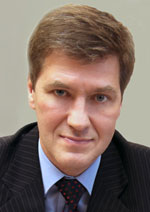 Nikiforov
Vladimir O.
D.Sc., Prof.
MODELING OF THE ASYMETRICAL SHAFT HEATING EFFECT INFLUENCE ON ITS TRAJECTORY IN THE JOURNAL BEARING
B. Grigoriev, A. Fedorov
Read the full article

';
Abstract
The article is devoted to the analysis of an asymmetrical shaft heating influence of an unbalanced shaft on a tra-jectory of a synchronous whirl in the cylindrical bearing. The mathematical model including both the thermohy-drodynamic analysis of bearings and the analysis of the asymmetrical shaft heating influence on its trajectory is developed. The scheme of the numerical solution of the equations in the model is constructed. The system con-sisting of a shaft with two bearings and the overhung disk was considered as an example.
Keywords:
journal bearing, Morton effect, static imbalance, thermal bow
This work is licensed under a
Creative Commons Attribution-NonCommercial 4.0 International License