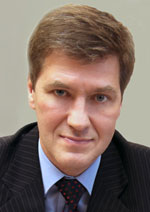 Nikiforov
Vladimir O.
D.Sc., Prof.
SIMULATION OF ENAMEL AND DENTINE ABLATION PROCESSES
A. E. Pushkareva, O. Sidorova
Read the full article

Abstract
The article gives information on action mechanism of erbium laser to hard biological tissues. In addition a new adequate simulator of enamel and dentine ablation was devised. Also the article shows a calculation of shape and sizes of crater, appeared after influence of radiation of erbium laser to hard tissue. The obtained results, advan-tages and disadvantages of this research effort are discussed.
Keywords:
erbium laser, hard biological tissue, simulator of ablation, enamel, dentine
This work is licensed under a
Creative Commons Attribution-NonCommercial 4.0 International License