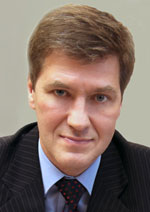 Nikiforov
Vladimir O.
D.Sc., Prof.
OPTICAL GAIN IN A FIBER FABRY-PEROT INTERFEROMETER AT THE PUMPING OF LOW POWER SINGLE-MODE SEMICONDUCTOR LASER
S. Bulgakova, A. Dmitriev
Read the full article

';
Abstract
The structure of fiber nonlinear Mach-Zehnder interferometer with optical path difference from 2 m up to 10.3 km is presented in this paper. We present experimental measuring results of the industrial single-mode semiconductor laser modules with a fiber Bragg gratings (1.32 μm – 1.55 μm) with a bandwidth less than 20 kHz. It has been shown that long (several kilometers) fiber interferometer acts as an active fiber non-linear Fabry-Perot interferometer with an essential nonlinear gain effect connected with Brillouin scattering in a fiber and Fresnel reflection at the butt end of the optical fiber. Nonlinear effects were first observed at a very small, less than 300 μW radiation power of the incoming light.
Keywords:
Mach-Zehnder interferometer, single-mode semiconductor lasers, Brillouin scattering, nonlinear interferometry, fiber interferometry.
This work is licensed under a
Creative Commons Attribution-NonCommercial 4.0 International License