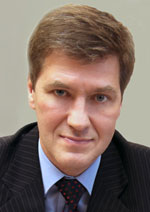 Nikiforov
Vladimir O.
D.Sc., Prof.

DOI: 10.17586/2226-1494-2017-17-5-929-937
MODELS AND METHODS OF INFORMATION MANAGEMENT SUPPORT IN CASE OF FINANCE PLANNING
S. A. Arustamov, A. P. Varenikova
Read the full article

';
Article in
Russian
For citation:
Arustamov S.A., Varenikova A.P. Models and methods of information management support in case of finance planning. Scientific and Technical Journal of Information Technologies, Mechanics and Optics, 2017, vol. 17, no. 5, pp. 929–937 (in Russian). doi: 10.17586/2226-1494-2017-17-5-929-937
Abstract
Subject of Research. This study focuses on enterprise management optimization and development of integrated management information system supporting distributed decision-making processes. The paper describes local automation problems and heterogeneous information system integration for planning and forecasting support. Method. We propose an original enterprise document flow model with the use of temporal stochastic modeling methods. The paper considers the ontology-based model of heterogeneous information system integration. This study proposes ontology concept classification and methods for concept mapping and information objects integration. Main Results.A mathematical model of finance planning is developed based on the proposed models and methods. This model considers stochastic factors and enables funds to be reserved for future expenses. Proposed methods were applied in Finance Planning information system at ITMO University in 2016-2017. The system contains data coming from several information subsystems: Accounting, Salary and Scholarship, Logistics, Contract management. It provides users with expense forecast for 2-3 months that is about 20 % of the annual budget. The software was developed using Oracle DBMS technologies and PL/SQL language within the framework of the Management Information System at ITMO University. Practical Relevance. These approaches may be applied for integration of heterogeneous information systems and data sources at different areas. Proposed methods may be used not only in finance planning but are applicable also to other problems of management optimization with planning and forecasting support.
Keywords:
mathematical modeling, management optimization, information system integration, ontology, finance planning, forecasting
References
Serbinovskii B.Yu. et. al.

Innovative Model and Integrated Information Environment in the Management of a New Type of University. Novocherkassk, YuRGTU (NPI) Publ., 2009,

226 p.

Popova I.A., Shlei M.D., Varenikova A.P. Information management system of the network university.

Science and Education of the Bauman MSTU, 2016, no. 7, pp. 123–130. (In Russian)

Gorzen-Mitka I., Okreglicka M. Improving decision making in complexity environment.

Procedia Economics and Finance, 2014, pp. 402–409. doi: 10.1016/S2212-5671(14)00819-3

Ermoshkin N.N., Tarasov A.A.

Enterprise Information Technology Strategy: How the Cisco System and the World's Leading Companies use the Internet Business Solutions. Moscow, Moscow University for the Humanities Publ., 2003, 360 p. (In Russian)

Economics of Education: Planning, Analysis and Control of Financial and Economic Activities of Educational Institutions of Higher Education

(Category Managers and Employees of Financial and Accounting Services). Ed. M.A. Dmitriev. Moscow, MPGU Publ., 2016, 166 p.

Isaev D.V., Kravchenko T.K.

Information Technologies of Management Accounting. Moscow, GU VShE Publ., 2006, 297 p. (In Russian)

Baldin A.V., Eliseev D.V., Agayan K.G. Overview of methods of creating systems based on temporal relational database.

Science and Education of the Bauman MSTU, 2012, no. 8, 309–318. (In Russian) doi: 10.7463/0812.0441884

Maree M., Belkhatir M. Addressing semantic heterogeneity through multiple knowledge base assisted merging of domain-specific ontologies.

Knowledge-Based Systems, 2015, vol. 73, pp. 199–211. doi: 10.1016/j.knosys.2014.10.001

Zhao Y., Li Z., Wang X., Halang W.A. Decision support in e-business based on assessing similarities between ontologies.

Knowledge-Based Systems, 2012, vol. 32, pp. 47–55. doi: 10.1016/j.knosys.2011.08.020

Mitrofanova O.A., Konstantinova N.S. Ontology as a knowledge storage system.

All-Russian competition of review-analytical articles on the priority direction Information and Telecommunication Systems, 2008, vol. 48, no. 2, pp. 1–54. (In Russian)

Matyushin M.M., Vakurina T.G., Kotelya V.V., Skobelev P.O., Lakhin O.I., Kozhevnikov S.S., Simonova E.V., Noskova A.I. Methods and software for creation of ontologies for visualizing connected information objects of random nature in complex information-analytical systems.

Informatsionno-Upravlyayushchie Sistemy, 2014, no. 2, pp. 9–17. (In Russian)

Hinkelmann K., Gerber A., Karagiannis D., Thoenssen B, Merwe A., Woitsch R. A new paradigm for the continuous alignment of business and IT: Combining enterprise architecture modelling and enterprise ontology.

Computers in Industry, 2016, vol. 79, pp. 77–86. doi: 10.1016/j.compind.2015.07.009

Du J., Zhou L. Improving financial data quality using ontologies.

Decision Support Systems, 2016, vol. 54, pp. 76–86. doi: 10.1016/j.dss.2012.04.016

Otero-Cerdeira L., Rodríguez-Martínez F.J., Gómez-Rodríguez A. Ontology matching: a literature review.

Expert Systems with Applications, 2015, vol. 42, no. 2, pp. 949–971. doi: 10.1016/j.eswa.2014.08.032

Jean-Mary Y.R., Shironoshita E.P., Kabuka M.R. Ontology matching with semantic verification.

Web Semantics: Science, Services and Agents on the World Wide Web, 2009, vol. 7, no. 3, pp. 235–251. doi:10.1016/j.websem.2009.04.001

Shvaiko P., Euzenat J. Ontology matching: State of the art and future challenges.

IEEE Transactions on Knowledge and Data Engineering, 2013, vol. 25, no. 1, pp. 158–176. doi: 10.1109/TKDE.2011.253

Arustamov S.A., Varenikova A.P. Expenses forcasting model in university projects planning.

Scientific and Technical Journal of Information Technologies, Mechanics and Optics, 2016, vol. 16, no. 6, pp. 1111–1119. doi: 10.17586/2226-1494-2016-16-6-1111-1119
This work is licensed under a
Creative Commons Attribution-NonCommercial 4.0 International License