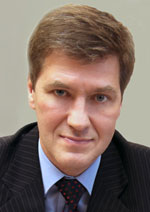 Nikiforov
Vladimir O.
D.Sc., Prof.

doi: 10.17586/2226-1494-2018-18-1-1-8
SPECTRAL AND LUMINESCENT PROPERTIES OF DOPED AND CO-DOPED GLASSES BASED ON 35Bi2O3-40PbO-25Ga2O3 COMPOSITION
V. A. Klinkov, A. V. Semencha, V. A. Aseev, N. T. Sudar
Read the full article

';
Article in
Russian
For citation:
Klinkov V.A., Semencha A.V., Aseev V.A., Sudar N.T. Spectral and luminescent properties of doped and co-doped glasses based on 35Bi
2
O
3
-40PbO-25Ga
2
O
3
composition.
Scientific and Technical Journal of Information Technologies, Mechanics and Optics
, 2018, vol. 18, no. 1, pp. 1–8 (in Russian). doi: 10.17586/2226-1494-2018-18-1-1-8
Abstract
The paper deals with research of glasses based on heavy metal oxides Bi2O3 and PbO. We consider the application possibility of glasses mentioned above for the upconversion temperature sensors based on the ratio measurement of the luminescence peaks of Er3 + ions in the 500–700 nm region. The glass composition of 35Bi2O3-40PbO-25Ga2O3 (mol. %) was considered as the object of the study; glass samples doped with Er3 + ions and co-doped with Yb3 + and Nd3 + ions were also synthesized. In order to obtain the upconversion luminescence spectra of doped glasses in the 500–700 nm spectral region, the synthesis was carried out in quartz glass crucibles in contrast to platinum crucibles usually used for the synthesis of this type of glasses. The quartz crucible application enabled extension of the operational spectral range of glasses in the visible region. Absorption spectra in the visible and infrared bands were measured, and the OH group content in the glass was estimated on the basis of the absorption coefficient in the region around 3 μm. The obtained value of the absorption coefficient is substantially smaller than for a number of oxide multicomponent glasses. The luminescence spectra were recorded at excitation by a titanium-sapphire laser with 975 nm wavelength. We proposed a mechanism for description of the nature of the luminescence peaks with maxima about 531, 552 and 665 nm. A band intensity increase in the red spectral region relative to bands with maxima about 531, 552 nm was observed for a glass sample containing Er3+ and Yb3+ ions that was explained by the energy transfer from Yb3+ ions to Er3+ ions. The results obtained demonstrate possibility in principle to use the investigated glass composition as a sensitive element for optical luminescent sensors when synthesizing in a quartz crucible.
Keywords: luminescent properties, rare-earth ions, absorption spectra, glasses based on heavy metal oxides, doped glasses, spectral properties, excitation energy transfer, ytterbium, neodymium

References