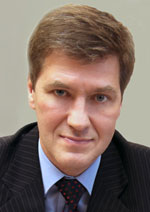 Nikiforov
Vladimir O.
D.Sc., Prof.

DOI: 10.17586/2226-1494-2019-19-2-255-270
APPLICATION OF DIGITAL FACIAL ANTHROPOMETRY (Review paper)
G. A. Kukharev, N. Kaziyeva
Read the full article

';
Article in
русский
For citation:
Kukharev G.A., Kaziyeva N. Application of digital facial anthropometry. Scientific and Technical Journal of Information Technologies, Mechanics and Optics, 2019, vol. 19, no. 2, pp. 255–270 (in Russian). doi: 10.17586/2226-1494-2019-19-2-255-270
Abstract
An analytical review of the digital facial anthropometry application in the scientific and practical problems of the contemporary human world is presented. The research includes a brief history of anthropometry emergence (as a descriptive and comparative science, the subject of which is human) and its transformation into contemporary computer methods of digital anthropometry. We have considered the application features of digital facial anthropometry. They are: the concepts of the morphotype and phenotype of the face, problems of morphology and morphometry, as the basic means of digital facial anthropometry, methods of quantitative and qualitative assessment of the characteristics and parameters of individuals, the task of finding associations between gene sets in the genome and human facial features, the task of assessing the attractiveness and beauty of individuals, the relationship of facial anthropometry with "Chernoff Faces" and cognitive computer graphics used in practical medicine, the phenomenon of the human face and the problem of determining the emotions, sex and psycho-type of a person, special cases of face image recognition tasks, methods for solving them within the framework of digital facial anthropometry and examples of their solution. We have determined the prognosis for the close connection of digital facial anthropometry and the "Internet of things" in the contemporary world.
Keywords:
digital facial anthropometry, evaluation of person's face characteristics and parameters, face attractiveness and beauty, search for associations with genomes (GWA), "Chernoff Faces", cognitive computer graphics, face image recognition, "Internet of things"
References
29. De la Torre F., Cohn J.F., Huang D. System and Method for Processing Video to Provide Facial De-Identification. Patent US 9799096 B1, 2017.
44. Iskornev A. Face harmonization. Esteticheskaya Meditzina, 2017, vol. 16, no. 3, pp. 265–271. (in Russian)
45. Bagic I., Verzak Z. Craniofacial anthropometric analysis in Down's syndrome patients. Collegium Antropologicum, 2003, vol. 27, no. 2, pp. 23–30.
50. Dering L.M. et al. Evaluation of anthropometric facial landmarks in woman with blepharophimosis, ptosis, and epicanthus inversus syndrome. RSBO, 2017, vol. 14, no. 3, pp. 147–151.
55. Márcio F. Catapan, et al. Anthropometric analysis of human head to identification of height in proper use of ballistic helmets. Proc. 5th Int. Conf. on Applied Human Factors and Ergonomics, 2014, 12 p. 56. Goto L., et al. Analysis of a 3D anthropometric data set of children for design application. Proc. 19th Triennial Congress of the IEA. Melbourne, Australia, 2015.
57. Fenlon R. Facial respirator shape analysis using 3D anthropometric data. NIST Interagency, Internal Report, 2007, 18 p.
59. Loconsole C. et al. Real-time emotion recognition: novel method for geometrical facial features extraction. Proc. Int. Conf. on Computer Vision Theory and Applications, 2014, pp. 378–385.
72. Kochetygov I.S., Prokop'ev R.O. Visualization of multidimensional medical data with the help of "Chernoff faces" pictographs. Proc. Int. Conf. on Information Technology in Science, Management, Social Area and Medicine. Tomsk, Russia, 2014, part 1, pp. 242–244. (in Russian)
74. Panfilov S.L. Phenomenon of a Human Face in the Annex to the Hexagrams of the Book of Changes. Electronic Book, 2007, 226 p. (in Russian)
75. Yi Jing. Book of Changes. Moscow, Azbuka-Attikus, 2015, 576 p. (in Russian)
79. Chen X., Liu C., Li B., Lu K., Song D. Targeted backdoor attacks on deep learning systems using data poisoning. arXiv:1712.05526v1, 2017.
81. Thomas C., Kovashka A. Persuasive faces: generating faces in advertisements. Proc. British Machine Vision Conference. Tyne, UK, 2018.