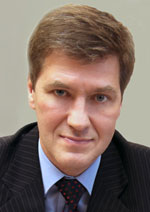 Nikiforov
Vladimir O.
D.Sc., Prof.
Modelling of basic Indonesian Sign Language translator based on Raspberry Pi technology
Read the full article

';
Article in
English
For citation:
Fadlilah
U., Prasetyo R.A.R., Mahamad A.K., Handaga B., Saon S., Sudarmilah E. Modelling of basic Indonesian Sign Language translator based on Raspberry Pi technology.
Scientific and Technical Journal of Information
Technologies, Mechanics and Optics
, 2022, vol. 22, no. 3, pp. 574–584. doi: 10.17586/2226-1494-2022-22-3-574-584
Abstract
Deaf people have hearing loss from mild to very severe. Such people have difficulty processing language information both with and without hearing aids. Deaf people who do not use hearing aids use sign language in their everyday conversations. At the same time, it is difficult for general people to communicate with the deaf, so in order to communicate with the deaf they must know sign language. There are two sign languages in Indonesia, namely SIBI (Indonesian Sign Language System) and BISINDO (Indonesian Sign Language). To help with communication between deaf and normal people, we developed a model using the one-handed SIBI method as an example, and then further developed it using the one-handed and two-handed BISINDO. The main function of the method is the recognition of basic letters, words, sentences and numbers using a Raspberry Pi single-board computer and a camera which are designed to detect the movements of language gestures. With the help of a special program, images are translated into text on the monitor screen. The method used is image processing and machine learning using the Python programming language and Convolutional Neural Network techniques. The device prototype issues a warning to repeat the sign language if the translation fails, and delete the translation if it doesn't match the database. The prototype of the device requires further development providing its flexibility: to provide reading of dynamic movements, facial expressions, to provide translation of words not included in the existing database. You need to add a database other than SIBI, such as BISINDO, or sign languages from other regions or countries.
Keywords: CNN, deaf people, droidcam, image processing, machine learning, Python, Raspberry Pi, SIBI, sign language, smartphone camera, webcam

Acknowledgements. This work was supported by a research grant TIER 1, H917. The researchers thank all those who contributed to the preparation of the work, especially the UMS (Muhammadiyya University Surakarta) Electrical and Electronics Engineering Curriculum and Tun Hussein Onn Malaysia (UTHM) Electrical Engineering Curriculum, Research Management. We thank the Center, which contributed to the implementation and testing of this study.

References