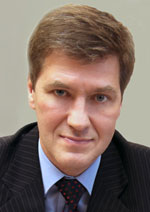 Nikiforov
Vladimir O.
D.Sc., Prof.
REPRESENTATION OF FINITE STATE AUTOMATA BY LINEAR BINARY GRAPHS IN GENETIC PROGRAMMING
V. Danilov, A. A. Shalyto
Read the full article

';
Abstract
The article deals with representation of finite state automata by evolutionary algorithm individuals based on
linear binary graphs. Comparison of the given method with known ones is done by the example. Suggested
method is more efficient as compared with representation of transition function by complete charts. It is more
efficient at some condition numbers than representation of transition function by decision trees.
Keywords:
genetic programming, finite state automata, linear binary graphs
This work is licensed under a
Creative Commons Attribution-NonCommercial 4.0 International License