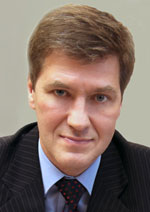 Nikiforov
Vladimir O.
D.Sc., Prof.
AUTOMATIC SELECTION OF ENVIRONMENT PARAMETERS DURING AUTOMATA PROGRAMS GENERATION BY GENETIC ALGORITHMS
V. Kulev
Read the full article

';
Abstract
The paper proposes a new method of genetic programming that improves the way of fitness function creation for genetic algorithms testing individuals by simulating the environment. This method makes it possible to select automatically the parameters of the external environment, which leads to quality improvement of generated individuals. It was shown, that the developed approach can be used to generate the automata programs in problems where the behavior of the environment can be described by a finite automaton, by the example of the "Prisoner's iterated dilemma" problem.
Keywords:
genetic programming, finite automaton, finite state programming
This work is licensed under a
Creative Commons Attribution-NonCommercial 4.0 International License