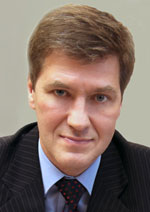 Nikiforov
Vladimir O.
D.Sc., Prof.
BASIC PRINCIPLES FOR SOLVING THE PROBLEM OF TRANSFORMING AN OBJECT-ORIENTED SOURCE CODE TO RDF FORMAT USING SEMANTIC ANALYSIS
A. Zarakovsky, S. V. Klimenkov, N. Tkachenko, A. E. Kharitonova
Read the full article

';
Abstract
The article describes ways of solving the task of object-oriented source code conversion to RDF format using
semantic analysis. Basic principles of semantic analysis of object-oriented code are reviewed and architectural prototype of software is proposed which converts code to RDF format.
Keywords:
source code, RDF, semantic analysis, computerized analysis, triplet, grammar, syntax tree, lexer, parser, Java, ANTLR
This work is licensed under a
Creative Commons Attribution-NonCommercial 4.0 International License