Menu
Publications
Editor-in-Chief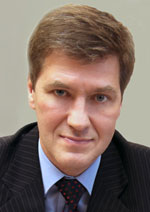 Nikiforov
Vladimir O.
D.Sc., Prof.
Partners
PARAMETRIC IDENTIFICATION OF BODIES' INERTIA TENSORS ON SPHERICAL MOTIONS WITH SLOW SPIN
S. . Shakhoval, G. I. Melnikov
Read the full article

Abstract
Identification method of body's inertia tensor based on semiprogram movement of the tested body with fast reverse-symmetric rotation around vertical axis of precession and relatively slow coordinated rotation around inclined moving spin axis is offered.
Keywords:
inertia tensor, spin, reverse-symmetric motion, parametric identification
This work is licensed under a
Creative Commons Attribution-NonCommercial 4.0 International License