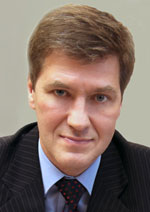 Nikiforov
Vladimir O.
D.Sc., Prof.
REALISTIC MODELING OF FREE WATER SURFACE ON ADAPTIVE "OCTAL TREE" MESHES
K. Nikitin
Read the full article

';
Abstract
An efficient method for flow modeling of incompressible viscous liquid with free border is presented. The
method unites the projection method for solving the Navier-Stokes equations and the particle level set method for the free surface evolution. The method uses adaptively refined hexahedral meshes built "octal tree" tree data structure.
Keywords:
computational hydrodynamics, free surface flows, computer graphics
This work is licensed under a
Creative Commons Attribution-NonCommercial 4.0 International License