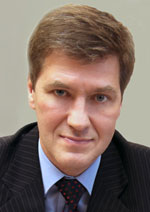 Nikiforov
Vladimir O.
D.Sc., Prof.
ANALYSIS OF WIRELESS SENSOR AND ACTUATOR NETWORKS DESIGN METHODS
D. A. Kirov, A. A. Ozhiganov
Read the full article

';
Abstract
Existing design methods of information and control systems are considered. Aspect, actor-oriented and platformbased approaches are selected and analyzed in relation to wireless sensor and actuator networks. Generic design processes of investigated systems are described based on these methods. Some improvement directions for them are suggested, their perspectives are discussed as well.
Keywords:
wireless sensor and actuator networks, physically embedded intelligent systems, aspect design, actor-oriented design, platform-based design, WSN, WSAN
This work is licensed under a
Creative Commons Attribution-NonCommercial 4.0 International License