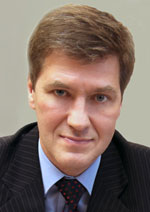 Nikiforov
Vladimir O.
D.Sc., Prof.
INTEGRATED ON-BOARD COMPUTING SYSTEMS: PRESENT SITUATION REVIEW AND DEVELOPMENT PROSPECTS ANALYSIS IN THE AVIATION INSTRUMENT-MAKING INDUSTRY
P. P. Paramonov, I. O. Zharinov
Read the full article

';
Abstract
The article deals with present situation review and analysis of development prospects for integrated on-board computing systems, used in the aviation instrument-making industry. The main attention is paid to the projects carried out in the framework of an integrated modular avionics. Hierarchical levels of module design, crates (onboard systems) and aviation complexes are considered in detail. Examples of the existing products of our country and from abroad and their brief technical characteristics are given and voluminous bibliography on the subject matter as well.
Keywords:
integrated modular avionics, crates, present situation, review
This work is licensed under a
Creative Commons Attribution-NonCommercial 4.0 International License