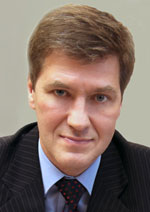 Nikiforov
Vladimir O.
D.Sc., Prof.
CERIUM IONS INFLUENCE ON A LUMINESCENCE AND ABSORPTION OF MOLECULAR SILVER CLUSTERS IN SILICATE GLASSES AFTER ION EXCHANGE
I. A. Dyomichev, V. I. Egorov, E. S. Postnikov, E. M. Sgibnev, A. I. Sidorov, T. A. Khrushcheva
Read the full article

';
Abstract
Luminescence and absorption spectrums of silicate glasses containing silver, embedded by ion exchange, were investigated. Intensive luminescence of such glasses was shown to appear right after ion exchange that can be associated with neutral molecular clusters of silver Agn formation. The increase of cerium ions concentration was also shown to cause the increase of luminescence intensity of the samples. The following UV-treatment decreases luminescence intensity. Thermal treatment under 300-350 0С temperature increases the luminescence intensity.
Keywords:
luminescence, cerium, ion exchange, silver clusters
This work is licensed under a
Creative Commons Attribution-NonCommercial 4.0 International License