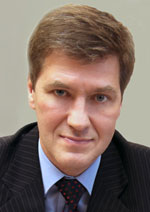 Nikiforov
Vladimir O.
D.Sc., Prof.
COMPENSATION ALGORITHMS OF TORQUE RIPPLE FOR PRECISION ELECTRIC DRIVE WITH PERMANENT-MAGNET SYNCHRONOUS MOTOR
V. S. Tomasov, S. Y. Lovlin, A. V. Egorov
Read the full article

';
Abstract
The article deals with electric drive model considering the non-linearity of permanent-magnet synchronous motor such as cogging torque and field harmonic torque. Permanent-magnet synchronous motor parameters identification algorithms and cogging torque compensation and field harmonic torque compensation are proposed. These algorithms increase the efficiency of precision electric drive by magnifying the accuracy of positioning. The results have experimental confirmation.
Keywords:
precision electric drive, permanent-magnet synchronous motor, torque ripple, cogging torque, field harmonic torque
This work is licensed under a
Creative Commons Attribution-NonCommercial 4.0 International License