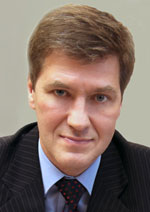 Nikiforov
Vladimir O.
D.Sc., Prof.
FABRICATION OF TISSUE-SIMULATIVE PHANTOMS AND CAPILLARIES AND THEIR INVESTIGATION BY OPTICAL COHERENCE TOMOGRAPHY TECHNIQUES
A. V. Bykov, M. V. Volkov, M. A. Volynsky, I. P. Gurov, M. Kinnunen, N. B. Margaryants, A. P. Popov
Read the full article

';
Abstract
Methods of tissue-simulative phantoms and capillaries fabrication from PVC-plastisol and silicone for application as test-objects in optical coherence tomography (OCT) and skin and capillary emulation are considered. Comparison characteristics of these materials and recommendations for their application are given. Examples of phantoms visualization by optical coherence tomography method are given. Possibility of information using from B-scans for refractive index evaluation is shown.
Keywords:
tissue-simulative phantoms, capillaries, PVC-plastisol, silicone, optical coherence tomography, refractometry
This work is licensed under a
Creative Commons Attribution-NonCommercial 4.0 International License