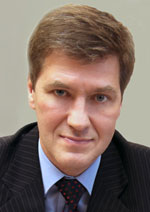 Nikiforov
Vladimir O.
D.Sc., Prof.
ANALYSIS OF CHEMICAL AND PHASE TRANSITIONS OF MULTICOMPONENT ALLOYS UNDER PULSED LASER EXPOSURE IN THE AIR BY METHODS OF CHEMICAL THERMODYNAMICS
V. P. Veiko, A. A. Slobodov, G. V. Odintsova
Read the full article

';
Abstract
The article deals with computational thermodynamic method for determination of phase chemical composition of metal alloys surface formed under laser action in the atmosphere, depending on its volume components, conditions of laser exposure and atmosphere composition. By giving an example of laser heating of complex alloy (alloyed steel) in the air it is demonstrated that from a set of various possible reactions of interaction between iron, nickel or chrome with air components (oxygen, nitrogen, carbon, their compounds, atmospheric moisture, etc.), only strictly defined reactions are realized. Primarily, these are metal oxidation processes with the formation of an oxide film, whose phase and chemical composition is determined by temperature and heating time. Calculation data are confirmed by the experimental data provided by energy-dispersive X-ray spectroscopy.
Keywords:
laser technologies, physical chemistry, thin films, laser exposure of metals, thermodynamics, calculation
This work is licensed under a
Creative Commons Attribution-NonCommercial 4.0 International License