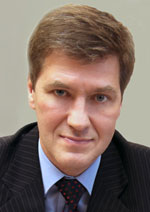 Nikiforov
Vladimir O.
D.Sc., Prof.
AGENT-BASED APPROACH TO BUSINESS PROCESSES SIMULATION IN eEPC NOTATION
Y. A. Lantsev, M. G. Dorrer
Read the full article

Abstract
A set-theoretic formalism of models describing for business processes in ARIS eEPC methodology and AnyLogic agent-based simulation models is proposed and developed. Translation method from model in eEPC notation into agent-based AnyLogic simulation model is developed. An experiment is performed of model translating in eEPC notation into AnyLogic agent-based simulation model based on the developed method.
Keywords:
agent-based approach, eEPC, ARIS, AnyLogic
This work is licensed under a
Creative Commons Attribution-NonCommercial 4.0 International License