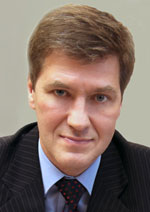 Nikiforov
Vladimir O.
D.Sc., Prof.
IDENTIFICATION OF LUMINESCENT CENTRES IN GLASS WITH COPPER AND CHLORINE IONS
A. N. Babkina, N. V. Nikonorov, A. I. Sidorov, T. A. Shakhverdov, P. S. Shirshnev
Read the full article

';
Abstract
Research results of luminescent and excitation spectra of potassium-alumina-borate glass with copper and chlorine ions luminescence are submitted. It is shown, that before the heat treatment glass luminescence is connected with molecular clusters Cun (n < 10). The broadband luminescence in the visible spectral region, appearing after the heat treatment, is due to the appearance of (CuCl)n and (Cu2O)n molecular clusters in glass matrix.
Keywords:
luminescence, molecular cluster, glass, copper chloride, copper ions, chloride ions
This work is licensed under a
Creative Commons Attribution-NonCommercial 4.0 International License