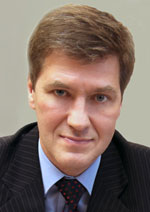 Nikiforov
Vladimir O.
D.Sc., Prof.
FLOW ROUTING MODEL WITH LOAD BALANCING BY QUEUE LENGTH IN SOFTWAREDEFINED NETWORKS
T. Vavenko, V. Sterin, A. Simonenko
Read the full article

';
Abstract
The article deals with the flow model of multipath routing with load balancing by the length of the queue for software-defined networks. Analysis results of the proposed model for a fragment of the Google corporation telecommunication network are shown. Comparison of the routing solution by the proposed model and the routing model with load balancing based on coefficient of maximum link utilization is done.
Keywords:
software-defined networks, multipath routing, load balancing, multipath delay, coefficient of maximum link utilization, queue length, traffic
This work is licensed under a
Creative Commons Attribution-NonCommercial 4.0 International License