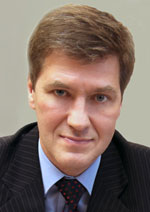 Nikiforov
Vladimir O.
D.Sc., Prof.
SYNCHRONIZING OF PHYSIOLOGICAL SIGNALS FOR HUMAN INTELLECTUAL ACTIVITY BY MULTIFUNCTIONAL MEASURING COMPLEX
M. Y. Marusina, N. B. Suvorov, A. Kozachenko, D. Tolkovich
Read the full article

';
Abstract
The article deals with development results of multi-measurement system for recording of physiological and information signals describing the psycho-physiological state of a person at the current instant time. The complex gives the possibility to synchronizing and real-time processing of all recorded physiological parameters during the study of the subject creative activity. The scheme and components of multifunctional complex are described. Results of the fixing and processing of physiological signals recorded during intense intellectual activity are given.
Keywords:
measuring complex, synchronization, encephalography, physiological signals, psychophysiological states
This work is licensed under a
Creative Commons Attribution-NonCommercial 4.0 International License