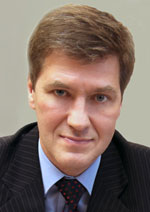 Nikiforov
Vladimir O.
D.Sc., Prof.
STUDY OF ENTROPY PROCESSES IN THE HUMAN BODY BY ITS PHYSIOLOGICAL RHYTHMS
A. Ivanova
Read the full article

Abstract
Results of experimental measurements of the electrocardiogram for different states of patients are illustrated. Results of the phase portraits (attractor) design are given. It is shown that, depending on the condition of the patient (severe, moderate, satisfactory, etc.) the value of the correlation dimension and the phase trajectories are changed.
Keywords:
entropy, correlation dimension, attractor, fractal
This work is licensed under a
Creative Commons Attribution-NonCommercial 4.0 International License