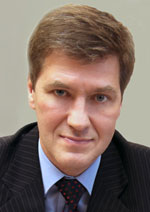 Nikiforov
Vladimir O.
D.Sc., Prof.
KINETICS OF OXIDIZING ANILINE POLYMERIZATION. STATISTICAL ANALYSIS OF POLYANILINE NANOSTRUCTURE GROWTH
A. Podshivalov, V. V. Zuev, S. Bronnikov
Read the full article

';
Abstract
Kinetics of polyaniline polymerization was studied for the first time by direct method including electron microscopy with the following statistical analysis of micro photos of polyaniline granulated nanostructure in different time intervals and analytical description of histograms for polyaniline granules sizes by thermodynamic aggregation model. Dependencies of granules average size and the amount of granules from polymerization time are shown. Three phases of process are stated: formation and growth of primary granules-they are formed and grow during the first three minutes of reaction on the padding; formation of solid polyaniline film – on the third minute granules have grown up to their maximum sizes; formation of new granules on a solid film begins from the forth minute.
Keywords:
polyaniline, oxidizing polymerization kinetics, topochemical reaction, morphology, statistical analysis, thermodynamics of irreversible processes
This work is licensed under a
Creative Commons Attribution-NonCommercial 4.0 International License