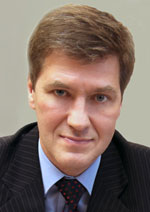 Nikiforov
Vladimir O.
D.Sc., Prof.
TOTAL PHOSPHORUS ESTIMATING IN RIVER LUGA, GULF OF FINLAND, BY LANDSAT 5 (TM) SATELLITE IMAGERY
E. Kapralov, E. Kunaeva, , M. Mednik
Read the full article

';
Abstract
Phosphorus, flowing via rivers into the Gulf of Finland, is a major source of nutrients, and in some cases the limiting factor for the growth of algae which is known as eutrophication. Remote sensing of total phosphorus by Landsat 5 (TM) data, can help to give a better understanding of the process of eutrophication. The method, originally described and previously applied for Chinese rivers, is later transferred and applied to three different rivers flowing into the Baltic Sea on the territory of Sweden. The results show that by measuring of chlorophyll –a transparence and content by remote sensing model is able to explain 62% of the variance in total phosphorus.
Keywords:
remote sensing, Landsat 5 (TM), total phosphorus, chlorophyll-a, eutrophication, river Luga, Gulf of Finland
This work is licensed under a
Creative Commons Attribution-NonCommercial 4.0 International License