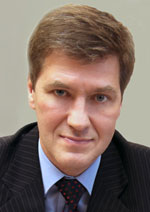 Nikiforov
Vladimir O.
D.Sc., Prof.
HYDROSTATIC PRESSURE IMITATION AT TRIGGER TESTS OF INDEPENDENT UNINHABITED UNDERWATER VEHICLES IN WORKSHOP CONDITIONS
V. A. Valetov, A. Krasilnikov
Read the full article

';
Abstract
Circuit decisions of the hydrodynamic stand and its brake mechanism of original designs for working off of
underwater starting modules of mainly small-sized uninhabited underwater vehicles are considered. Correlations are given, allowing to make an estimation of influence of the stand for work of starting arrangements. By means of the developed settlement model working capacity of a brake mechanism in the big range of speeds of an input of a product in a brake pipe is proved.
Keywords:
uninhabited independent underwater vehicle, the starting arrangement, test, the hydrodynamic stand, conformity factor, a brake mechanism
This work is licensed under a
Creative Commons Attribution-NonCommercial 4.0 International License