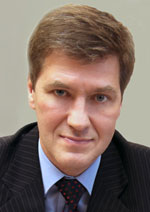 Nikiforov
Vladimir O.
D.Sc., Prof.
MOLECULAR VISUALIZATION IN MAGNETIC-RESONANCE TOMOGRAPHY BY ECHO-PLANAR IMAGING TECHNIQUES
A. O. Kaznacheeva
Read the full article

';
Abstract
Molecular visualizing techniques using magnetic-resonance imaging (MRI) are considered. Echo-planar imaging (EPI) abilities for diffusion measuring and functional maps building were analyzed and image quality affecting factors were estimated. The suggested data acquisition parameters allow increasing accuracy of the diffusion coeffi-cient estimation and functional maps building, the results of the measurement were estimated.
Keywords:
magnetic-resonance tomography, diffusion, functional maps, image quality
This work is licensed under a
Creative Commons Attribution-NonCommercial 4.0 International License