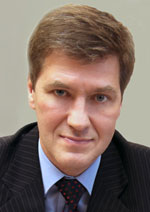 Nikiforov
Vladimir O.
D.Sc., Prof.
INNOVATIVE SYSTEMOF EDUCATION SPECIALISTS IN SOFTWARE DESIGN SPHERE IN St.P SU ITMO
V. N. Vasiliev, V. Parfenov, A. A. Shalyto
Read the full article

';
Abstract
Saint Petersburg SU ITMO is invariably among the top three world-rate universities training specialists in the
field of software design and production. These achievements depend to a large extent on development and
implementation of the innovative specialist training system based on combination of design and competitive
approaches into educational process. Scientific and methodological aspects of such system construction are
considered in the article. Its efficiency is proved by another triumph of our university team at the Programming
World Championship ACM ICPC in 2009.
Keywords:
software design, design approach, competitive approach, specialist training, programming world championship.
This work is licensed under a
Creative Commons Attribution-NonCommercial 4.0 International License