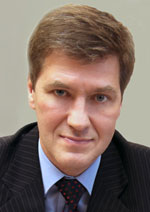 Nikiforov
Vladimir O.
D.Sc., Prof.
PHOTOLUMINESCENTMANIFESTATION OF INTERACTION BETWEEN CdTe QUANTUM DOTS ANDMETAL IONS INWATER SOLUTION
A. Savelyeva, M. V. Mukhina, A. O. Orlova, V. G. Maslov, A. V. Baranov, A. V. Fedorov
Read the full article

';
Abstract
The dynamics of CdTe quantum dots (QDs) clustering in water solutions in the presence of metal ions (Pb2+,
Cr3+) is investigated. The data were obtained using absorption and fluorescent spectral analysis and fluorescent
lifetime analysis. We observed that in the presence of lead ions CdTe QDs tend to form stable clusters of certain
size. The results provide evidence of energy transfer between CdTe QDs inside formed clusters.
Keywords:
CdTe quantum dots, nano-clusters, lead ions, energy transfer.
This work is licensed under a
Creative Commons Attribution-NonCommercial 4.0 International License