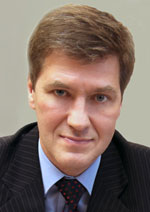 Nikiforov
Vladimir O.
D.Sc., Prof.
SURFACE CLEANING OF GLASSMICROCHIP AFTER BIOLOGICAL SAMPLES ANALYSIS
A. Evstrapov, A. Tupik
Read the full article

';
Abstract
The paper discusses the problems connected with realization of polymerase chain reaction (PCR) on a
microchip. The results of cleaning of glass microchip after PCR with the chromic solution, sodium
hypochlorite solution (1%), sulfuric acid and hydrogen peroxide solution (3:1) and TE buffer solution are
presented. It is confirmed that the sodium hypochlorite solution and chromic one are applicable for surface
cleaning.
Keywords:
microchip, surface, polymerase chain reaction (PCR).
This work is licensed under a
Creative Commons Attribution-NonCommercial 4.0 International License