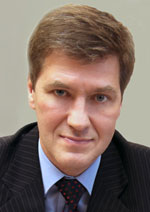 Nikiforov
Vladimir O.
D.Sc., Prof.
NONADIABATIC PHENOMENA IN OPTOINFORMATIC POLARITON LASERS
R. M. Arkhipov, V. S. Egorov, I. A. Chekhonin
Read the full article

';
Abstract
At the present time a possibility of developing of new class of coherent light sources – polariton lasers at the
room temperatures – is of great interest. Theoretical understanding of generation mechanism in these systems
is based on polaritons - quasi-particles, which are a superposition of photons and resonance medium
excitations in strong-coupled electromagnetic field and matter. A new effective nonadiabatic method of
excitation of polariton lasers with FM mode-locking laser pump is proposed. Nonlinear properties of polariton
lasers are investigated.
Keywords:
polariton, polariton laser, strong coupling.
This work is licensed under a
Creative Commons Attribution-NonCommercial 4.0 International License