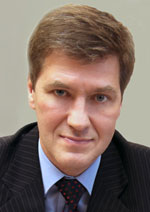 Nikiforov
Vladimir O.
D.Sc., Prof.
QUALITY ASSESSMENT OF BROADCAST TELEVISIONMATERIALS FOR MOBILE TERMINALS
A. Peregudov, K. Glasman, A. Belozertsev, E. Grinenko
Read the full article

';
Abstract
The results of experimental study of multimodal quality assessment of compressed television materials for
portable and mobile devices are discussed in the paper. There are special requirements because of the limited
bandwidth of transmission channels in portable and mobile multimedia production. A kind of optimization
should be done and as a result special recommendations should be made to meet such requirements and to
provide a reasonable level of integral perceived quality. If dynamic multiplexing and adaptive (content
dependent) allocation of video- and audio flows in the range of constant channel bandwidth are being taken into
account, it will allow improving the quality of new portable and mobile multimedia applications in broadcast
television systems.
Keywords:
mobile television, quality assessment, multimodal assessment, compression, multimedia
This work is licensed under a
Creative Commons Attribution-NonCommercial 4.0 International License