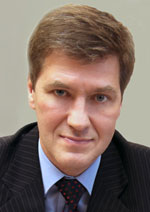 Nikiforov
Vladimir O.
D.Sc., Prof.
DISSOCIATION CONDITIONS OF SEMICONDUCTOR QUANTUM DOT/ORGANIC MOLECULE COMPLEX IN POLYMERIC THIN FILMS
Y. Toporova, A. O. Orlova, V. G. Maslov, A. V. Baranov, A. V. Fedorov
Read the full article

';
Abstract
The article reports the results of a spectral research of semiconductor quantum dot (QD)/organic dye 1-(2.-
Pyridylazo)-2-naphthol (PAN) complex in hydrophobic solutions and in polymeric thin films in the presence of
metal ions. Conditions of QD / PAN complex formation in solutions and thin films and its dissociation in the
presence of metal ions were defined on the basis of experimental results. It was concluded that QD/PAN
complex can be used as a sensitive element of dissociative luminescence nanosensor.
Keywords:
quantum dot, organic dye, dissociation, metal ions.
This work is licensed under a
Creative Commons Attribution-NonCommercial 4.0 International License