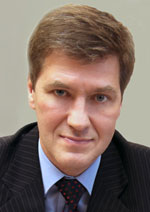 Nikiforov
Vladimir O.
D.Sc., Prof.
INVARIANT MODEL FOR ESTIMATION OF THE ATMOSPHERE TRANSMITTING EFFICIENCY AT OBJECTS MONITORING IN THE OPTICAL SPECTRAL RANGE
A. V. Demin, M. Moiseeva
Read the full article

';
Abstract
Estimation problem of the atmosphere influence on radiation in the middle and distant infra-red range for the increasing of results reliability at aircraft monitoring is considered. The analytical a posteriori model of atmosphere transmittance is proposed. The general structure of such model is shown. Identification results of the atmosphere transmitting efficiency value on the basis of experimental data are shown.
Keywords:
analytical model, identification, the atmosphere transmitting efficiency, objects monitoring, experimental data.
This work is licensed under a
Creative Commons Attribution-NonCommercial 4.0 International License