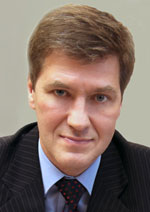 Nikiforov
Vladimir O.
D.Sc., Prof.
MICROFLUID CHIPS FOR BIOLOGICAL OBJECTS RESEARCH BY METHODS OF HIGH-RESOLUTION MICROSCOPY
I. V. Kukhtevich, A. Bukatin, I. Mukhin, A. Evstrapov
Read the full article

';
Abstract
Microfluid devices coupled with methods of high-resolution microscopy have allowed creating new analytical systems for studies of biological objects in natural state. The main requirements for microscopy methods for the nondestructive study of biological objects were formulated. Alternatives for fixation of biological objects were reviewed and discussed. Experimental models of microfluid chips for high-resolution microscopy techniques were shown.
Keywords:
microfluid chip, biological sample, micro- and nanostructures, confocal laser scanning microscopy, near-field microscopy, atomic-force microscopy, lithography.
This work is licensed under a
Creative Commons Attribution-NonCommercial 4.0 International License