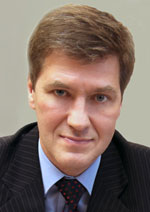 Nikiforov
Vladimir O.
D.Sc., Prof.
UNIT FOR EXPERIMENTAL OBSERVATION OF CHEMILUMINESCENT SPECTRUMS
L. Isaev, G. Ishanin, V. P. Chelibanov
Read the full article

';
Abstract
Arrangement of light powerful device for analog form registration of chemiluminescent spectrums with high level of sensitivity and response time is described in the article. Chemiluminescent spectrums for oxidation of oxy benzene acid, hydrazide of undecylenic acid and amino ftal acid are obtained in heterogeneous conditions.
Keywords:
chemiluminescense, light powerful device, interference wedge filter, mulichannel spectrometer, CCD-matrix, chemiluminescense spectrum
This work is licensed under a
Creative Commons Attribution-NonCommercial 4.0 International License