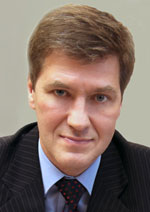 Nikiforov
Vladimir O.
D.Sc., Prof.
MAIN FEATURES OF THE ELECTROMAGNETIC FIELDS STRUCTURE GENERATED IN THE LOWER IONOSPHERE GROUND-LEVEL SOURCES. NUMERICAL RESULTS
S. Rybachek, M. A. Belyansky
Read the full article

';
Abstract
This paperis a continuation of the articleby S. Rybachek and M. Belyansky "Main features of the electromagnetic fields structure generated in the lower ionosphere by low-frequency ground-level sources" and presents the results of numerical calculations and analysis of electric and magnetic fields in the lower ionosphere. The fields structure depending of the height of the receiver, propagation conditions, the distances between corresponding points and frequency are being studied.
Keywords:
electromagnetic fields, anisotropic ionosphere, the low-frequency antennae.
This work is licensed under a
Creative Commons Attribution-NonCommercial 4.0 International License